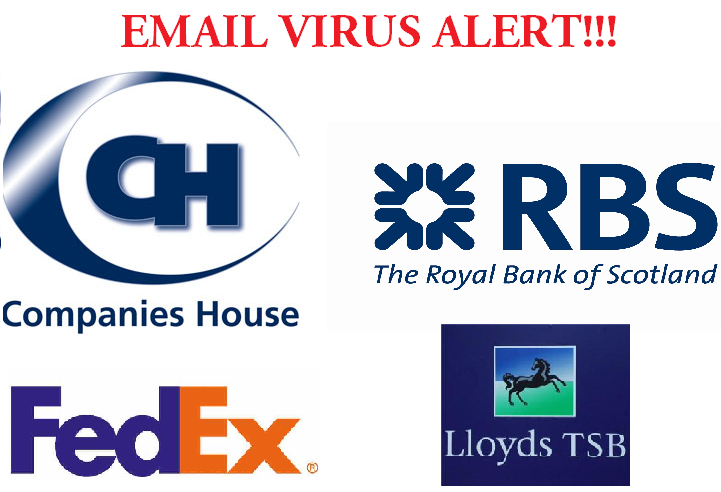 Following my last article regarding my experience with the company house and RBS virus email, I have seen significant increase in email traffic with virus attachment, all coming from very convincing sources such as Fedex Courier, Lloyds bank, etc.
Several emails from Fedex have carried subjects such as "your parcels have been exempted from custom charges", "your products have been dispatched", "your reward order has shipped", etc. As a
computer repair and service provider
, we actually order numerous computer parts on a daily basis which makes us quite vulnerable to this viruses, however, the content of the emails suggest that we download the attachment which immediately raised my antenna so I immediately hit the delete button.
With many variation of these emails, coming from different companies with authentic email addresses, it is becoming more difficult to identify which contains virus, however, my advice are as follows:
If you receive an email from a bank or financial organisation that you have not dealt with, especially if the email is carrying an attachment such as .zip, .rar, .exe, delete immediately!
If you receive an email from any parcel delivery company and you are not expecting a parcel, especially if it has as attachment such as .zip, .rar, .exe, there is a high chance it contains a virus. This will become increasingly difficult as we move closer to Christmas and I am certain the creators of the viruses are also aware of user vulnerability.
If you receive any unexpected email with attachment such as .zip, .rar, .exe, it is most likely a virus. If in doubt, scan the email with your antivirus before opening it.
If you have been unfortunate to have been infected with this virus, shutdown your computer immediately and contact us on 01293 540762, so that we can clean your computer and remove all traces of the virus. We are also able to install a reliable antivirus for peace of mind, which will protect you in real time, so that in the future the virus will be deleted before it can cause any damage.
For help, or further information on our services, please
contact us
Tel: 01293 540 762
Email:
This email address is being protected from spambots. You need JavaScript enabled to view it.