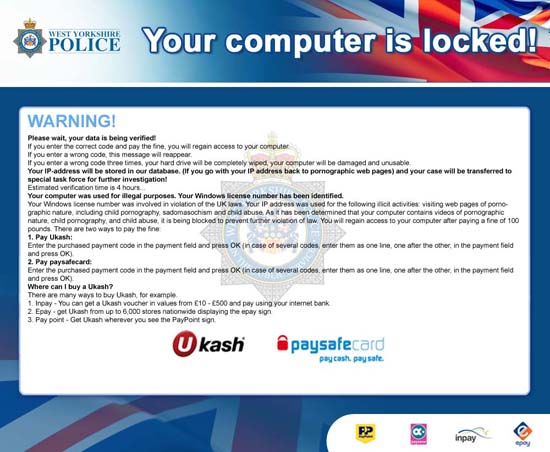 For some time now the Ukash virus, malware or ransomware has been a huge threat to computer user around the world. There are several variation of these deadly virus and removing the virus is not always straight forward. They often pose as your local police department such as West Yorkshire Police, Metropolitan Police, FBI, Royal Canadian Police and many others. In our experience at Southgate Computers in Crawley, this virus has the ability to seize your computer completely, with some variation of the virus preventing access to Windows repair tools which were built into the operating system.
We have also seen a variation of this virus having the capability to access your webcam in order to take a picture of the user and presenting a convincing false evidence of illegal activities for which a ransom is demanded. We have heard from some people who have gone ahead and made the ransom payment in the hope their computer will be made available but failed.
As this virus is intended to take advantage of vulnerable individual, we therefore advice that should you encounter this virus in any form or shape, DO NOT make any payment as this will not restore your computer and you will be releasing your credit card or bank details to potential fraudsters. You should immediately shut down your computer and contact a reputable computer shop like Southgate Computers where we will perform thorough system clean up and remove all traces of the virus from your computer. We will also ensure that your computer leaves our shop with a reliable security software that will prevent future virus infection without compromising your computer speed and performance.
The longer this virus is left to run on your computer, the more difficult it is to remove and the more damage it would have caused to your laptop or PC. If you are unsure of what you are doing, we advise that you do not attempt this virus removal yourself as your attempt could jeopardise the chances of a healthy system recovery.
If you are facing any issues with your laptop or PC, whether you have a virus, your computer running slow or just need your computer cleaned up, contact us on 01293 540762 or just pop into our shop on springfield road (behind ASDA) in Crawley where will be happy to help you with all your enquiries.
Southgate Computers …always happy to help!